NISSAN YD25 DUPLEX TIMING CHAIN CONVERSION KIT FOR
NISSAN D22 / D40 NAVARA & NISSAN R51 PATHFINDER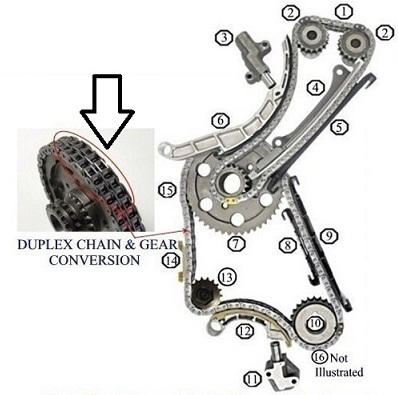 UPGRADE CONVERSION KIT INCLUDES:
1.Secondary Timing Chain Double Row
2.Cam Gears x 2
3.Secondary Tensioner
4.Secondary Guide Tension Inner
5.Secondary Guide Tension Outer
6.Secondary Guide Slack
7.Idler Gear
8.Primary Guide Inner
9.Primary Guide Outer Straight
10.Crankshaft Gear
11.Primary Tensioner
12.Primary Guide Slack
13.Duplex Vacuum Pump Kit
14.Primary Guide
15.Primary Timing Chain Double Row
16.Front Crankshaft Seal
Our upgrade timing chain gear kits for the Nissan YD25's, Navara and Pathfinder, we believe are the best available on the market. This timing chain kit upgrade converts your lower primary chain and gears to "Duplex" to match the "Duplex upper secondary chain and gears. Our timing gears are made from a solid one piece gear (billet), which greatly increases strength and longevity. Inferior bolt together gears do not compare to a solid one piece gear design. What also sets our timing kits apart from other suppliers is we include a "Duplex" vacuum pump conversion kit. This vacuum pump upgrade is a simple and easy installation.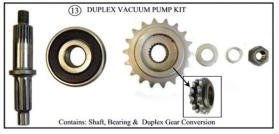 UMR Engines can convert your Nissan Navara or Pathfinder with a YD25DDti engine into a complete duplex timing set-up, which is superior to the standard replacement kit, If your budget does not allow this upgrade, we can still supply or install the standard replacement kit.
Our Standard replacement YD25 timing chain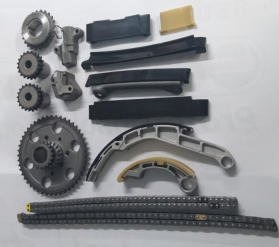 Our standard replacement timing chain kits for your Nissan YD25 are still made of high quality, including Genuine Tensioners, 4 x Gears, 2 x Tensioners, 2 x Timing Chains, Rails. STANDARD TIMING CHAIN KIT Includes: Japanese single row primary & double row cam chains, does not include brake vacuum pump gear replacement which is supplied in our upgrade kits. Standard kits do not include Duplex double primary chain or vacuum pump upgrade.
FITTING SERVICE AVAILABLE AT SLACKS CREEK – BRISBANE
UMR Engines qualified technicians can supply & fit your timing chain kit, from standard to upgrade conversion kits. What ever your engine problem our experienced diesel mechanics can diagnose and professionally repair your diesel engine. Our workshop has vast experienced with all makes and models of Common rail and Non common rail light diesel engines. UMR Engines has been building engines since 1975, trusted by RACQ as an approved repairer UMR Engines has been servicing the automotive industry since 1975 and repairing local vehicles, We are located at Slacks Creek – Brisbane area, Call us now for an estimate on your repairs.